Vinyl Installation Steps
Vinyl flooring is an extremely popular option for homeowners, especially in areas that tend to need an extra moisture barrier, such as kitchens and bathrooms. With so many options on the market, from luxury vinyl tile floors to luxury vinyl plank flooring, vinyl is a versatile solution, providing water and stain resistance along with long-term durability. Vinyl is not only an attractive flooring option, but it's also an inexpensive choice for remodeling your space.
Ready to install vinyl flooring in your home? Look no further than Flooring America, where we specialize in helping you discover the ideal flooring solution for your place. Our commitment goes beyond merely showcasing a vast array of flooring options—we are dedicated to guiding you through the seamless process of installing flooring, ensuring that your journey toward the perfect vinyl plank floor is not only exciting but also effortlessly executed.
Step 1: Choosing the Best Vinyl Flooring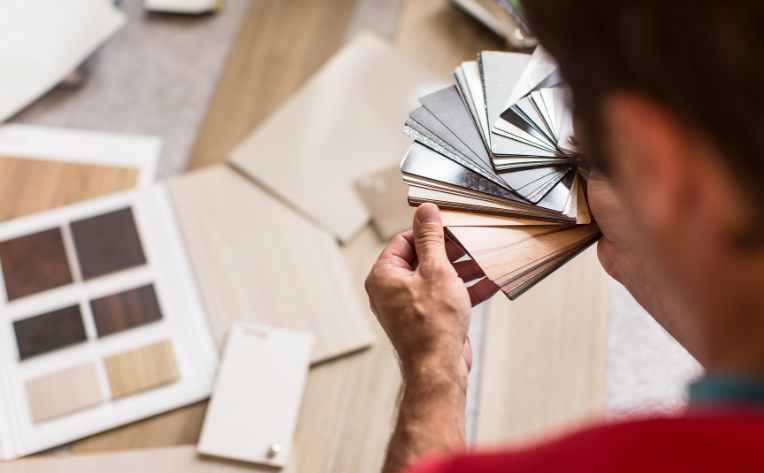 Flooring America offers many vinyl products. Vinyl flooring comes in three options: sheet vinyl, luxury vinyl tile, or luxury vinyl plank flooring. Let's explore these options.
Sheet Vinyl
There are two types of sheet vinyl available, which are differentiated by their backing: felt or fiberglass. Felt has traditionally been the most popular of the two, but new fiberglass options offer greater durability, increased comfort, and cushion underfoot. Both types of flooring have a printed vinyl design layer covered by a protective clear vinyl layer and top coat, allowing it to resist scratches and scuffs and to be cleaned easily.
Luxury Vinyl Tile
Luxury vinyl tile, or LVT, brings together the allure of natural stone or ceramic tiles with advanced technology. Comprising multiple layers with a strong wear layer, luxury vinyl tile flooring authentically mimics the look and feel of stone or tile while delivering exceptional durability and low maintenance. Suited for your home or business, LVT offers a sophisticated and cost-effective alternative to traditional stone flooring, with resistance to moisture, scratches, and daily wear.
Luxury Vinyl Plank
Experience the richness of natural wood textures without compromising on resilience when you shop for luxury vinyl planks or LVP. Resistant to moisture, scratches, and wear, LVP is composed of multiple layers of high-quality materials with a moisture-resistant wear layer. Crafted with meticulous attention to detail, these flooring planks offer a timeless aesthetic that complements both traditional and contemporary designs, allowing you to enjoy a natural wood look in any room of your home.
Remember: When you order your vinyl, it's vital that you obtain accurate measurements. If you fail to measure carefully, you could end up with too little vinyl to complete the job.
Step 2: Getting Rid of Any Obstacles and Existing Flooring
Depending on the room in which you're working, you'll need to remove various obstacles. If you're working in the kitchen, this means removing stoves and ovens, refrigerators, and molding. In bathrooms, you must remove the toilet and baseboards. Old flooring must also be carefully removed. This tedious, sometimes distasteful task is made so much easier by hiring our expert installers, all of whom are accustomed to the many challenges of flooring removal and installation.
Step 3: Preparing the Sub-Floor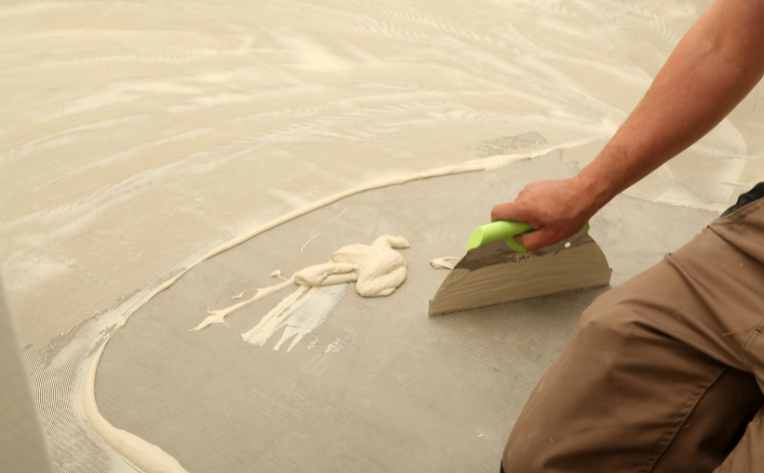 Before you begin your installation process, make sure that your existing floor is even. Vinyl flooring should sit on a flat, smooth surface to be installed properly. Unfortunately, in the process of removing any existing flooring, you might have scratched, gouged, or otherwise damaged the subfloor. Even though this subfloor will be covered by the new vinyl you've chosen, it's still a problem. Even small bumps leave your new flooring uneven. Leveling a concrete subfloor without the proper knowledge can make the problem worse, in some cases leading directly to structural issues that require the aid of a structural engineer, so be sure to consult with your Flooring America experts before beginning this step.
Step 4: Preparing Precise Measurements and Placing an Underlayer
If your room is very large or has hard-to-reach areas, a paper template can save you time and money by ensuring that each cut you make to the vinyl flooring is precise and accurate. Underlayers of vinyl floor-grade plywood help provide an even, smooth surface for vinyl flooring installation. The underlayer should rest in your home for up to three days, acclimating to your home's temperature and humidity. Skipping this step can lead to vinyl coming up in the future. The underlayer must be installed properly to avoid bumps becoming visible on the finished flooring. This method can vary depending on the subfloor.
Step 5: Putting Down the Vinyl Flooring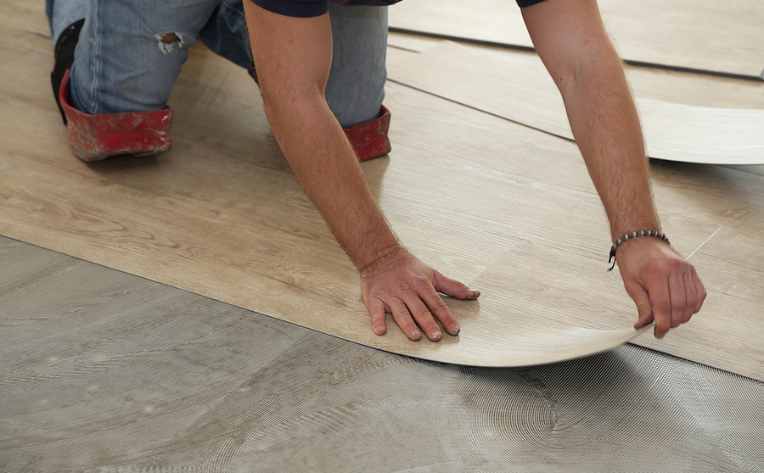 Your vinyl flooring may come in sheets, planks, or square tiles. Vinyl sheets are cut similarly to carpet, while square tiles should be applied in a pattern of some kind. Don't make the mistake of beginning at a corner with your pattern. Always start in the center of the room, or the pattern won't be symmetrical. Most rows of planks and square tiles come with their own adhesive backing and are self-stick, while vinyl sheeting typically must be glued down.
Successfully installing vinyl flooring is contingent on the firm adhesion of the vinyl to the underlayer. Using a rolling pin or floor roller can ensure a secure bond. Work your own flooring in sections, and don't move on until the previous section is complete. Once the flooring is installed, you must leave the adhesive to dry for several hours before you replace the molding, trim, or any appliances (or the toilet).
Of course, if you're looking at investing in luxury vinyl flooring, successfully laying vinyl plank flooring is another option. There are several methods you can employ to install vinyl plank flooring, depending on the product you choose. These include:
Each vinyl flooring purchase with installation from us at Flooring America comes with a lifetime installation warranty. If your vinyl flooring has a problem years down the road related to installation, we will make it right again. With hundreds of stores nationwide, you can be sure that you're in good hands when you're choosing long-lasting, durable vinyl that's kid-proof and pet-proof for a home or a commercial space.
FAQs About Vinyl Flooring Installation
Discover the answers to your top questions about vinyl flooring installation whether you're looking to install gorgeous white oak-look vinyl plank flooring in your living room or can't wait to get marble-look vinyl tiles for the bathroom.
How much do people charge to install vinyl plank flooring?
When it comes to the cost of vinyl floor installation, the pricing can vary based on several factors. The final expense depends on factors such as the complexity of the installation, the type and quality of the vinyl selected, and additional services like subfloor preparation. Keep in mind that professional installers may charge different rates, but you can get a free quote and estimate right here at Flooring America.
What is the best installation method for vinyl flooring?
When contemplating the installation of vinyl flooring, choosing the right method is paramount for long-lasting and visually appealing results and typically depends on the type of vinyl product you choose. For instance, installing vinyl plank flooring can be achieved through various methods, but the glue-down method stands out as a top choice for its durability and stability. This approach involves applying adhesive directly to the subfloor, creating a strong bond with the vinyl planks. For optimal performance and a professional finish, consider consulting with experienced professionals who specialize in installing vinyl flooring, ensuring a flawless application that aligns with your design preferences and functional requirements
Can you install vinyl by yourself?
Installing vinyl flooring by yourself—especially vinyl plank flooring—is often a tempting DIY task for those with a penchant for home improvement, but investing in a skilled and experienced installer is crucial to ensuring a seamless and durable vinyl floor installation. Our professional installation team is trained to carefully follow manufacturer guidelines and ensure proper subfloor preparation for a smooth and enduring finish that enhances the aesthetic appeal and longevity of your flooring.
Contact us today or visit your local Flooring America showroom to begin taking steps toward the easy-care vinyl floor you've always wanted. Experience the effortless maintenance, durability, and virtually unlimited design options that Flooring America can offer you. Our experts are waiting to guide you to the floor of your dreams!