Carpet Types and Styles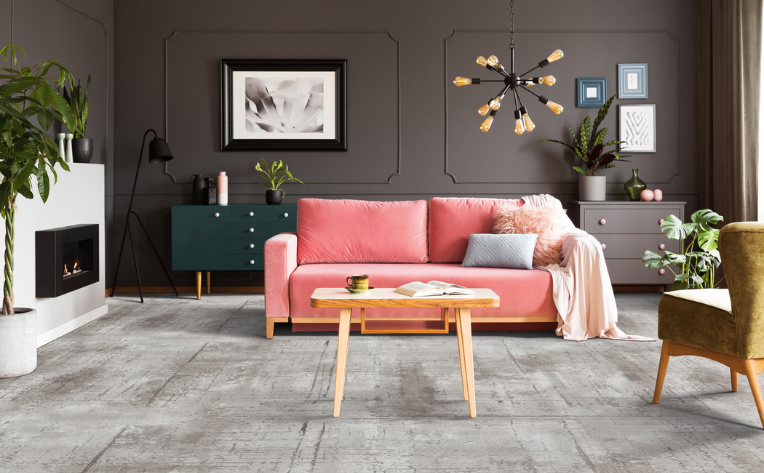 From luxurious wool to durable nylon, we've unraveled the threads of carpet types and styles to help you step up your home decor game. Discover the fascinating world of carpet in this ultimate guide, and learn how to choose the perfect flooring for your space.
Varieties and Advantages of Carpet
There are a variety of different carpet styles, patterns, and colors to choose from, allowing you to satisfy your personal style while matching your décor. Here are some additional advantages:
Carpet's cushioned surface absorbs sound and is less noisy to walk on than hard-surface flooring.

When considering affordability, carpet is one of the most economical flooring products to have installed.

The insulating properties of carpet provide additional warmth underfoot during cold seasons.

Carpet is a non-slip surface that is safe underfoot and provides a cushion to prevent breakage when delicate items are accidentally dropped.

Most synthetic carpets are treated with static, stain, and soil-resistant treatments, making them easy to clean and maintain.
If you have any unanswered questions about carpet after reading through this guide, check out our carpet flooring hub, and carpet FAQs or browse specific carpet products available at a Flooring America store near you.
Types of Carpet Fibers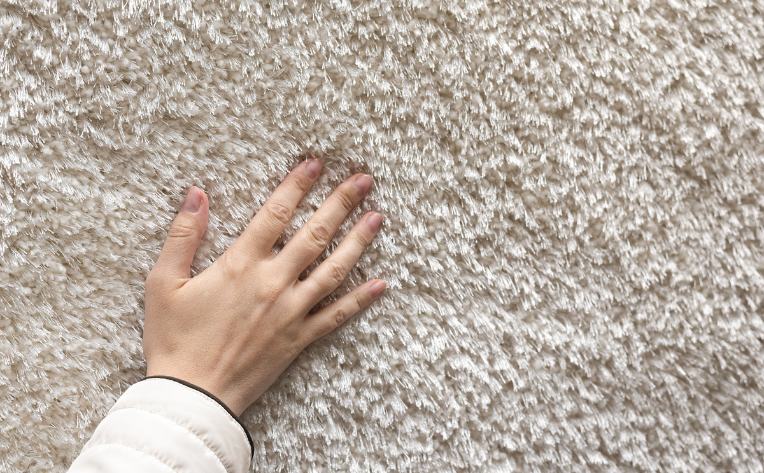 To pick the right carpet material, consider how you live in each room. There are four basic types of carpet materials:
Nylon
Nylon is the most stain-resistant and durable carpet fiber available when treated with stain protection. It is the fiber of choice for homes with pets and children and for those who entertain a lot. Because of its durability, nylon carpet is perfect for heavy-foot traffic areas like hallways and stairs.
Polyester
Polyester is known for its luxurious look, feel, and wonderful selection of colors and styles. Polyester carpeting has the ideal endurance for homes with a normal amount of traffic.
Olefin
Olefin offers good stain and moisture resistance but scores below nylon and polyester for wearability. It is best suited for rooms with low-foot traffic in loop pile construction or high, very densely cut piles.
Wool
As a natural fiber, wool is naturally soil-resistant but not inherently stain-resistant. Wool looks good for a long time and is organically well-constructed.
Carpet Construction
Over 90% of residential carpet is manufactured as tufted carpet. A tufting machine works like an oversized sewing machine with hundreds of needles that insert loops of fiber (tufts or stitches) into the carpet's backing to form the face pile of the carpet.
How long your carpet will last depends on how well it is made. Quality construction will affect the durability, appearance, and price of the carpet and is most influenced by the twist of the fibers and the density of the tufts.
Twist
Twist refers to how tightly the fiber (carpet yarn) has been twisted. The tighter the yarn is twisted, the better the carpet will stand up to crushing and matting. This is especially important in cut and deep pile carpet because the tips are exposed and can quickly become untwisted. Frieze carpet has the highest twist level at about 7-9 twists per inch (TPI), whereas most cut pile carpet styles have between 3-6 twists per inch.
Density
Density refers to both the amount and how tightly packed together the fibers are within the carpet. The closer together the fibers are placed, the denser the carpet will be, and the better it will wear and perform.
Ways to check for carpet density include trying to reach the carpet backing by pressing your fingers on the carpet fibers. The more difficult it is to get the backing, the denser the carpet. Or, with outward-facing tufts, bend the carpet into a U-shape and look at how much of the carpet backing is visible. The less backing that shows, the denser the carpet.
Stain-Resistant Carpet?
Consider how you live in each room—you might need more stain-resistant carpeting for dining rooms but can afford to opt for plush carpet or a high-pile carpet in the bedroom. If you have kids, pets, and high-traffic areas or entertain a lot, you will want to choose a carpet with stain resistance.
Choosing a carpet with quality stain resistance won't limit your options when it comes to carpet styles and colors. Your primary factor in determining stain resistance is the type of carpet fiber, including nylon, polyester, olefin, or wool.
Beyond fiber type, most manufacturers apply post-production stain protection treatments to enhance the natural stain-resistant properties of any fiber. Ask your Flooring America sales professional for assistance in making a flooring choice to suit your lifestyle, and look to your product's warranty to help guide you to the right level of warranty protection.
Textures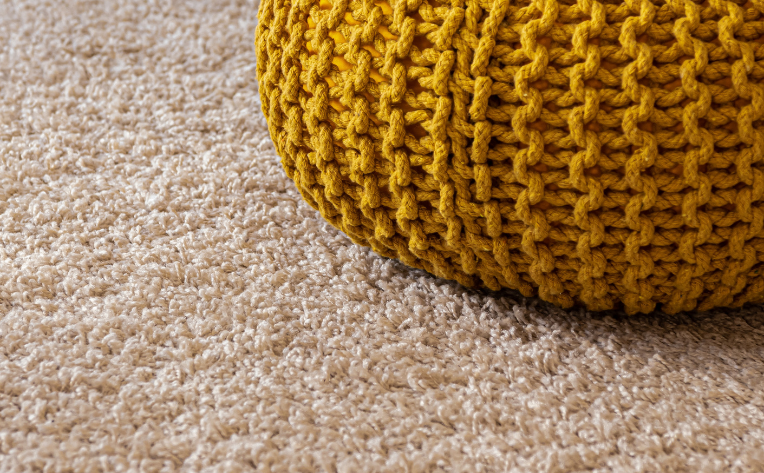 Carpet texture refers to how the fibers of the carpet are attached to the backing of the carpet. Primarily, there are three different types of carpet textures and carpet pile heights, including low pile carpet, medium pile carpet, and high pile carpet.
Cut Pile
Cut pile carpet consists of yarns that are cut at the ends. The soft feel of cut pile carpet makes it a perfect choice for the most comfortable areas of your home—bedrooms, living rooms, and family rooms. There are five basic styles of traditional cut pile carpets that each provide a different look and texture:
Velvet

Saxony

Frieze

Shag

Cable
The primary difference among these styles is the amount of twists in the yarns that will ultimately influence the carpet's durability. Textured-cut pile carpets are currently trending, with fibers of uneven lengths providing a fuller, more textured appearance.
Loop Pile
Loop carpet has yarns that are looped and uncut on the carpet surface. The pile height can vary from a low, tightly constructed pile to a more luxurious, high-level pile. Loop carpet has strength and soil-hiding capabilities. This style is ideal for heavy-traffic areas. Berber carpet is the most popular style of loop carpet that can be constructed with level loops or multi-level loops.
Cut-Loop Pile
As the name suggests, this carpet has a combination of high-cut tufts and lower loops in a variety of sculptured patterns. Cut-loop carpets offer good performance but are slightly less durable than loop carpets.
Dye Methods
There are two popular methods for dying carpet; both methods offer great color:
Solution-Dyed
The fiber is dyed before it is woven. This method gives the carpet stronger stain and fade resistance, along with resistance to harsh cleaning agents such as bleach.
Continuous-Dyed
This method is completed during the post-tufting process and is most suitable for woven carpet. It is a process that achieves solid colors.
Color Selection
Choosing the right color for your carpet is essential to tying your room's design elements together. Think of your floor as the fifth wall that connects all the other design elements in the room. Consider the walls, window treatments, and other furnishings when choosing a color scheme. Bring fabric and color samples when you visit our store, where our flooring experts will assist you in making your choice.
Types and Styles of Carpet... Need More Help?
With a better understanding of carpet types, fibers, and styles, you're well-equipped to choose the perfect carpet for your home. Use our Room Visualizer tool to experiment with different carpet styles and colors, or reach out to your local Flooring America for personalized guidance.