LVT Flooring: FAQs, Tips & Advice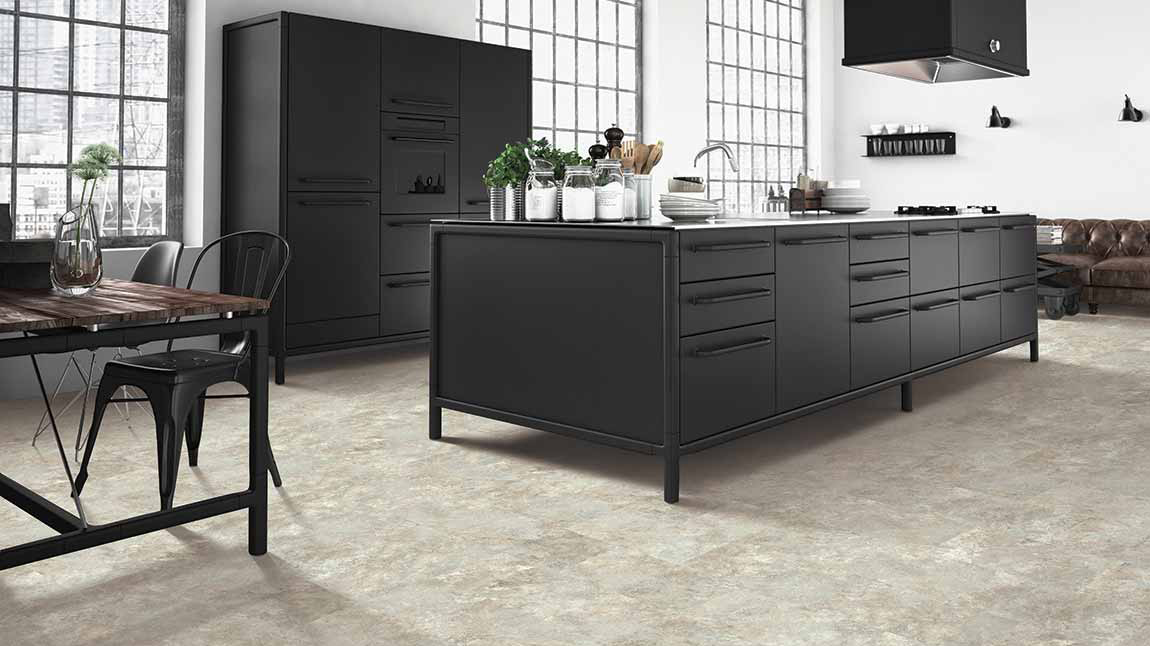 LVT, or Luxury Vinyl Tile, is a type of vinyl flooring designed in individual tiles. Far from the original production of sheet vinyl, luxury vinyl is superior in strength and style. Also available in planks, both vinyl floorings come in styles that mimic the look of natural hardwood and stone flooring. Because they're vinyl, these flooring products remain super durable, affordable, and easy to clean.
Some benefits of choosing luxury vinyl tile flooring for your home include:
Durable

Good Insulation

Water-Resistant

Economical
As homeowners seek better floors to match their lifestyle demands, the luxury vinyl flooring market has exploded as an easy and family-friendly option. Luxury vinyl tiles are an excellent flooring alternative for any home design since they can tolerate high foot traffic, scratches, and spills. Elevate your home decor with beautiful stone-look tile from our exclusive collection of luxury vinyl today!
Family-Friendly
LVT flooring is some of the most family-friendly flooring available on the market. It's waterproof, aka made to withstand all the spills, splashes, and leaks that pets and kids can bring to a busy household. This super-durable, budget-friendly flooring choice is also one of the easiest floors on the market to keep clean. Just simply sweep or mop, and you're good to go!
Elevated Style
LVT is fast becoming one of the most popular types of flooring for homes, as this functional flooring choice is now available in a variety of stylish options. If you're in love with a wood look or stone look for your interior design but don't want to pay an excessive amount, LVT is your solution! Mimicking everything from natural slate to polished ceramic tile, LVT is the perfect way to elevate your living areas in practical style. And you can create your own floor design, whether it be using luxury vinyl planks to make a chevron pattern or exploring monochrome tones using different shades of luxury vinyl tile.
Easy to Install
Installing LVT floors is quite simple, fast, and accessible. During installation, the tiles click together to float over the subfloor and lock out any moisture. And with such an easy install process, homeowners don't have to hesitate if they decide to switch up their flooring style down the line.
Durable
Unlike peel-and-stick vinyl, luxury vinyl tiles are made to last with their high-quality wear layer and rigid cores. The capability of luxury vinyl tiles to resist scratches, stains, and wear makes it an appealing flooring choice for high-traffic areas. Since LVT is made of plastic composite with various strengthening agents, this product is an excellent option for households with little children and pets roaming around.
Water-Resistant
Luxury vinyl tiles are water-resistant due to their installation process. Since these tiles use a click-and-lock system to install, they seal out any moisture and prevent it from getting to the subfloor. Many of the luxury vinyl tile brands we carry at Flooring America are actually waterproof, meaning that they can tolerate minor floods and spills. This feature makes them an excellent addition to any home. LVT floors are ideal for usage throughout the home, but particularly in kitchens, entryways, and basements, as well as any other high-traffic area prone to moisture, leaks, or spills.
Foot Comfort
Though LVT floors can mimic the look of hardwood and stone, the good news is that vinyl floors are not as cold underfoot as these natural sources! If foot comfort and warmth are important to you, then LVT is an excellent solution for your home. Like it especially warm? LVT floors can also work in conjunction with under-floor heating systems.
Good Insulation
LVT flooring is also a good investment because of the cushion and insulation it provides. Since LVT is installed with a click-and-lock system to seal out moisture, this floor does not crack or curl up over time like cheap glue-down vinyl floors might. Luxury vinyl tiles also provide extra protection from your home's subfloor due to their thickness. If, for example, inexpensive vinyl is laid on a concrete subfloor, the top of the floor will be much colder. Your feet will be more cushioned—and warm—with LVT flooring.
Economical
You might be wondering how much luxury vinyl tiles cost, but we're here to work within your budget. One significant advantage to investing in luxury vinyl tiles is their cost-efficiency. Fortunately, LVT flooring is an excellent option for homeowners looking for a low-cost alternative! LVT floors are less expensive than real hardwood or natural stone tile, and they require very little maintenance once installed to keep them in brilliant condition for years to come.