Hardwood vs Carpet: Cost Comparison and FAQs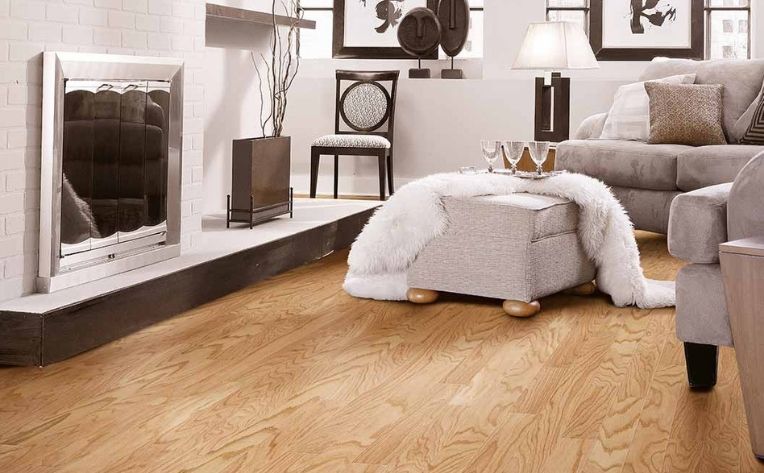 When considering the cost of installing hardwood floors vs. carpet, you need to factor in:
Price of Raw Materials
Installation Costs
Size of Room
Style Needs
What Brand?
How much your flooring job will cost very much depends on the brand of flooring you choose! For carpet, you can expect to spend anywhere from $2–$11 per square foot, whereas for hardwood flooring cost, you'll spend about $6–$14 per square foot. As these wide ranges in pricing show, for both carpet and hardwood floors, there are many great brands to choose from depending on if you're looking for high-end or more budget-friendly floors. Flooring America offers an amazing breadth of choices in both of these flooring types, so no matter where your budget lies, you'll find the perfect fit.
Installation
The cost to install hardwood floors ranges from about $2,500–$6,000, depending on the size of the room and other factors. And for carpets, it's about $700–$2,500. Though this may seem like a lot, DIY jobs can be a huge hassle once undertaken, and it's usually best to leave this very important job to the seasoned professionals! Another thing to remember about hardwood floors: They last forever (well, almost) and have an amazing resale value. Hence, the pricier initial investment.
Area of Home
Obviously, how much of your home you'll be installing your new floors in will factor into the cost. Though hardwood is technically more expensive than carpet, if you're installing carpet in a very large living room or basement, it could end up being the same investment as installing hardwood floors in a smaller dining room or study.
Design
Something to consider if you have your heart set on hardwood floors is looking into luxury vinyl. Many modern luxury vinyl floors today closely mimic the look and feel of real hardwood at a fraction of the cost.
Flooring America Is Here
Still unsure whether carpet or hardwood would be the best fit for your living room or bedroom? Talk to the flooring experts at your local Flooring America today. They can walk you through all the brands, and answer any questions you may have about budget, style, and the installation process.