Flooring Like Wood: The Best Alternatives to Real Wood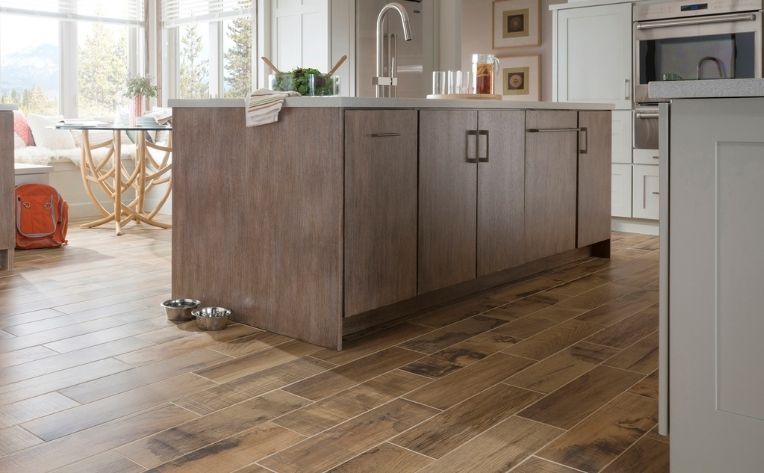 Elegant hardwood floors are many homeowners' dream, but their hefty price tag, not to mention the upkeep, can have many shoppers looking for a comparable alternative. Thankfully, flooring that looks like wood is achievable! Here are the best options if you're looking for floors that replicate the look of wood, at a fraction of the cost:
Luxury Vinyl
EVP
Laminate
Ceramic Wood
Luxury Vinyl
Luxury vinyl continues to grow in popularity as a flooring choice for those searching for that hardwood look at a discount. Sophisticated luxury vinyl flooring is able to look so much like real wood because the top layer of the floors is basically a design layer with a photographic image of wood laid on top. Modern luxury vinyl floors are also made up of more layers than regular vinyl floors, making them more durable and firm. The strong foot-feel of luxury vinyl, coupled with the photo-realism of the print, makes it both look and feel very similar to real wood floors.
EVP Flooring
A subset of luxury vinyl, engineered vinyl plank (EVP) flooring, is luxury vinyl floor made out of—you guessed it—engineered planks. This allows EVP flooring to closely mimic the look of real wood floors. EVP floors are also made out of a more rigid core, so they are known to be more durable than regular luxury vinyl plank floors, and thus are slightly more expensive. Whether for your kitchen, bathroom, or bedroom, EVP is a great option for wood-look floors.
Laminate
Laminate is another great alternative to attain wood-look flooring. Available in both sheet laminate and wood-look-tile form, there are many durable faux wood laminate options on the market that are designed and textured to look like their natural wood counterparts. Even better? Laminate is definitely a cheaper flooring option when compared to real hardwood costs.
Ceramic or Porcelain Wood
Ceramic or porcelain wood, otherwise known as wood-look flooring, is made from ceramic or porcelain powder that is shaped into tiles once the powder is moistened and then solidified. The two materials are very similar, though porcelain wood is considered denser and more durable. Both ceramic and porcelain wood floors are continuing to grow in popularity, and many people love them for outdoor areas.