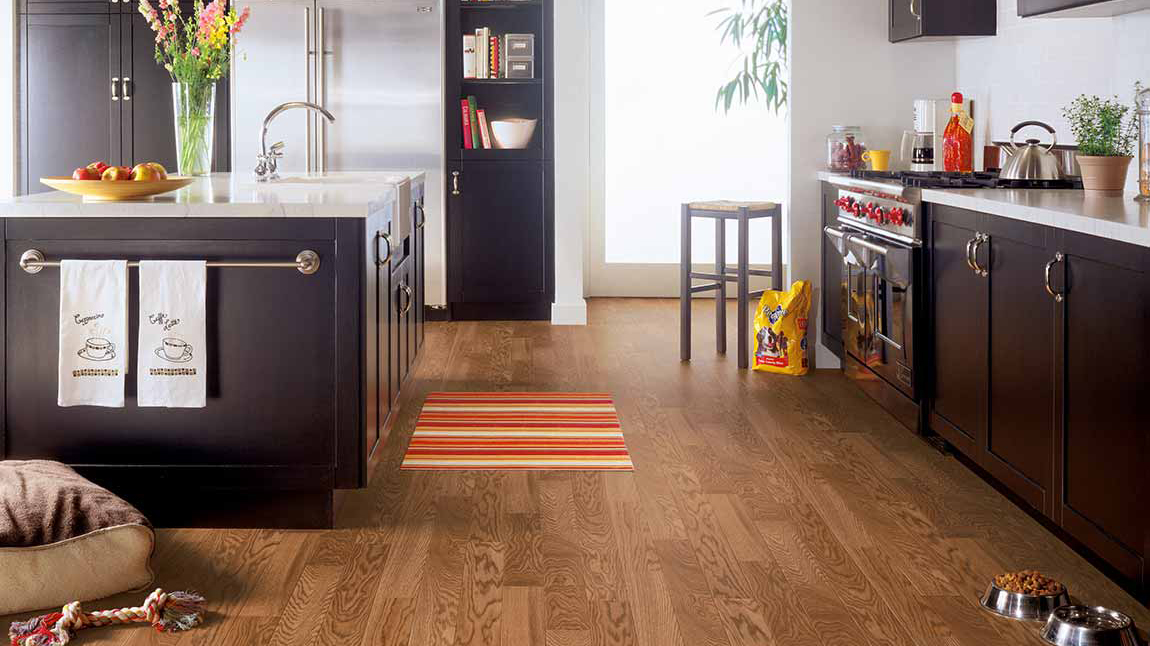 Laminate flooring costs somewhere between $8 and $15 per square foot, accounting for both the flooring material itself and the labor costs. Other factors that will influence the price of laminate wood flooring are:
Specific Costs of Installation
Discounts
Brand Chosen
Laminate wood flooring is a popular choice for shoppers looking for an affordable hard surface flooring option that comes in faux wood styles and that can adapt to any space.
Easy Install
Though it's easy to get carried away by the thought of a DIY job, flooring installs can be complicated, even with floors that click-in, or float, like many laminate flooring options do. That's why having expert installers, like those at Flooring America, do the work is a great call when you're purchasing new laminate floors. The peace of mind of having professionals handle this work is well worth the cost to install your underlay and flooring.
Did Someone Say Discount?
Laminate is a great flooring option for those on a budget and searching for cheaper alternatives to real hardwood or tile flooring. And when laminate wood flooring is on sale? Even better. Check out Flooring America for their latest amazing discounts on laminate flooring and all their other beautiful floor options.
Best Brands
There are so many wonderful wood-look options when it comes to laminate flooring brands. Your local Flooring America carries well-loved brands like Mannington, HomeCraft, and Mohawk—all laminate flooring options engineered in four layers, and providing dependability and lovely aesthetics.
Inexpensive, Durable Laminate
Wood-look laminate flooring is rising in popularity, thanks to low laminate flooring cost and its relatively easy installation process. Have any more questions about faux-wood floors? The folks at your local Flooring America are here to answer them—reach out today.
Laminate Wood Flooring is a budget-friendly choice for those who want the wood-floor look without the cost and upkeep.
Laminate Flooring Benefits
The stunning design you choose now has the lasting power to withstand heavy foot traffic and daily use. Laminate flooring is engineered in four layers to provide homeowners with the dependability and aesthetics they seek. Each layer plays a pivotal role in protecting the integrity of your floors!
First-Rate Laminate Floor Installation
Instead of spending time and resources looking for a qualified installer, take advantage of laminate installation from Flooring America. Our flooring contractors have the skills and experience to properly install every piece of laminate floor in your home.