The Most Durable Flooring Options for Your Home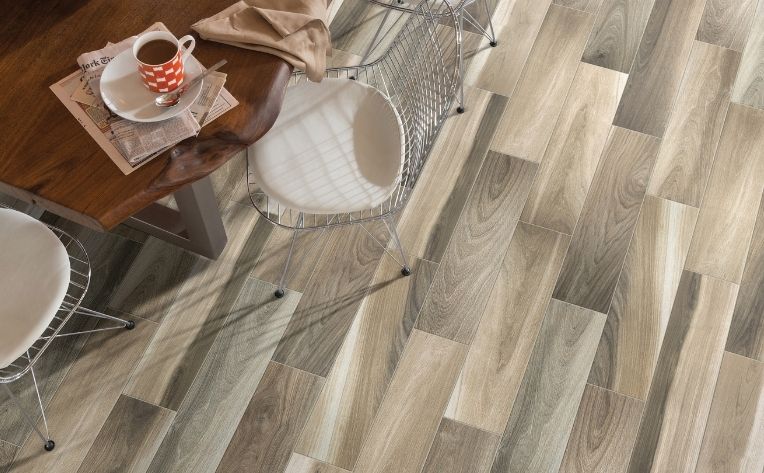 Finding the most durable type of flooring for your house will depend on:
Room Location
Budget
Design Wishes
Thankfully, flooring has come a long way over the years, and this means there are many types of beautiful, durable floors available on the market, from luxury vinyl to tile to hardwood. Read on for more information about the best durable floors available in 2021.
Location, Location, Location
The type of durable flooring you end up choosing for your home will depend on what type of room in your house needs new floors! For instance, if you're looking for a durable floor option for your bathroom, kitchen, or laundry room, you'll definitely want to explore waterproof choices like luxury vinyl or tile. Tile is one of the smartest flooring options for any room of your house that's prone to moisture, spills, and lots of foot traffic. And with a huge selection of both porcelain and ceramic tile designs and styles in stock, Flooring America is a great resource if you choose to go that route.
Save Big
Is budget a top concern while you shop for durable flooring? Laminate flooring is a great choice for families who are looking for top-notch durability at a low price point. As laminate flooring is created from multiple layers of resin and fiberboard, it's not only long-lasting and incredibly dependable, it's comfortable and foot-friendly, too. There are many great water-resistant laminate options on the market these days, such as Floorcraft™ Maysville H2O. Luxury Vinyl is a bit more expensive than laminate, but it's still a great budget-friendly choice, as well.
Beautiful Durability
If you're looking for the most elegant floors you can find for your dining room or living room, but also want durability, you should certainly explore hardwood floor brands like Aquadura H2O—offered at Flooring America in oak, pine, and walnut, to name a few. Other Flooring America-carried wood floor brands, such as Lauzon, offer advanced finishes to help protect against scratches. And we have to give a shout-out, again, to beautiful luxury vinyl. Brands like Galvanite are not only durable, but with advanced visual designs, they look exactly like the stunning hardwood you're seeking.
We've Got You Covered
As you can tell, there are many types of durable, attractive floors available on the market, no matter what type of room you're looking to re-do in your home, or what your budget or aesthetics are. At Flooring America, we're here to answer any questions you might have as you search for the best floors possible for your family, and your home.