No-Wear Carpet Flooring: Durability and Maintenance Tips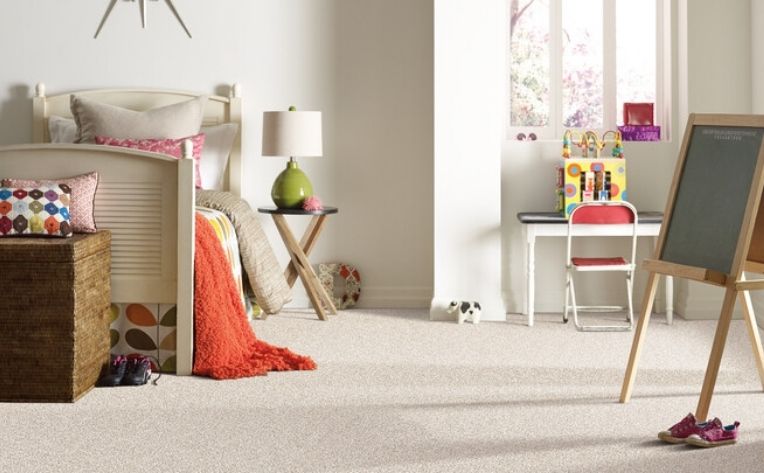 When looking for carpet that won't show wear in the high-traffic areas of your home, you'll want to keep the following in mind:
Type of Carpet Fiber
Budget
Type of Room
The good news is that most carpets being manufactured today can stand up to years of heavy foot traffic, so you don't have to worry too much about looking at only certain types of carpet while you're browsing. Thanks to developments in research and production, even the most economically priced carpets offer a solid baseline for both comfort and quality.
What's Your Style?
Carpets comes in many styles, and most of us are familiar with the idea of carpets that are flatter and smoother, called "low-pile" carpets, versus carpets that are taller and fluffier, which are known as "high-pile" carpets. However, it's not the low-pile or high-pile designation that really impacts how to care for a carpet—but rather what the carpet fibers that make up the carpet are manufactured out of. There are four types of carpet fibers on the market today: nylon, olefin, polyester, and wool. When it comes to durability, nylon fiber and wool fiber carpets are your best options. However, as mentioned above, technology has made all types of carpet a good bet, which is a relief for when you're shopping!
Budget Concerns
If budget is understandably a concern, polyester fiber carpet can be a great fit for your home. Polyester carpet is known to deliver the luxury look and feel—but at a cheaper price point. Resista Carpets, offered at Flooring America, are a great choice as they feature an advanced fiber technology that repels stains, making clean-up hassle free.
Where Is Your Carpet Going?
The type of room you're carpeting will also factor heavily into your decision-making. Obviously, stairs get the most foot traffic (hello, stomping!), and living rooms, bedrooms, and offices can get a lot of general wear and tear as well. Low-pile carpets of any fiber are good for those crowded areas of the home, as are wool and nylon carpets.
The Carpet Experts
No matter what your questions are about carpet, whether it's what type of fiber to choose or what kind of fabric loop, the folks at your local Flooring America are here to help. They'll answer any questions you may have about carpet installation and upkeep, and guide you toward the best carpet for your busy family, today.