Rival by Resista Care Guide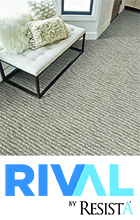 Rival by Resista®
Beautifully Durable, High Performance Carpet
Rival by Resista delivers long lasting durability that will keep this carpet beautiful for years to come. This trend forward collection offers stylish patterns and fashionable colors with the ultimate resiliency to stand up to active families.
Rival by Resista® Warranties
All Flooring America®/Flooring Canada® Rival by Resista® styles carry the Five Star Selection System carpet warranties with the terms being specific to the star rating of the product. In addition to the already enhanced Flooring America®/Flooring Canada® warranties, the manufacturer warrants that the Rival by Resista® carpet styles will remain stain-resistant to common household food and beverage substances, without exclusion, for 10 years from the date of the original installation in an owner-occupied residence in a proper indoor installation. The warranty is not transferable and is limited to the original purchaser. These warranties apply only to carpet installed in owner-occupied residential space in which the Rival® carpet was installed by a Flooring America®/Flooring Canada® retailer or Flooring America®/Flooring Canada® authorized independent installer. For the first five years of the warranty, should your carpet not perform according to the Stain Warranty for the term of your warranty, the affected area will be replaced with the same carpet, or if no longer available, product of comparable cost.
Replacement carpet is pro-rated based on the number of years it has been installed.
The Usage Fee will be determined as a percentage of the original purchase price, as follows:
0-10 Year Pro-Rated Schedule
1st - 5th Year 100% Coverage
6th Year 50% Coverage
8th Year 30% Coverage
7th Year 40% Coverage
9th Year 20% Coverage
10+ Years 10% Coverage

(See General Terms and Conditions for other conditions that apply.)
Rival by Resista 10 Year No Exclusion Warranty
Rival by Resista warrants that for ten (10) years after purchase your Rival by Resista, high-performance residential carpet will 1) remain stain resistant, including pet stains, pet vomit and feces, grease, mustard, coffee, lipstick, cola, and even bleach 2) resists soiling by common household soil; 3) remain free of wrinkles, edge ravel, tuft-bind and delamination; 4) be free of manufacturing defects, and 5) not exhibit significant twist loss or loss of texture from foot traffic. Carpet must be correctly installed in a proper indoor installation following the Carpet & Rug Institute Residential Installation Standard CRI-105, using a suitable pad that meets FHA/HUD requirements.

Please note that this warranty specifically excludes: any carpet which has been treated after installation with any silicone-based anti-soil treatments; any carpet in any nonresidential use; any carpet subjected to abnormal abuse or abusive conditions; and damage due to the application of improper cleaning agents. Failure to follow recommended carpet care and cleaning instructions detail on pages 8-9 may result in damage to your carpet that will not be covered by your warranty. Cleaning of the affected area should begin immediately upon discovery. The more time that elapses before removal, the more difficult a stain will be to remove.